Again, although the autobiography's lack of chronology rather tends to muddy Henry's account of his wartime service he recorded two major events that took place.
First, he undertook a number of anti-submarine patrols and during one patrol engaged a German submarine through bombing, however he felt unable to claim it as sunk, even though he reported sighting oil afterwards. At the time he may have been flying a Wight Converted Seaplane as shown below. (Yet another OV, Lieutenant Charles Stanley Mossop was awarded the DSC for sinking the German submarine UB32 by a direct hit with a 1000 lb bomb while flying a Wight Seaplane when operating from Cherbourg).
The second event was that, during 1918, he claimed the "kill" of an Albatros while in France to learn of the latest aerial warfare developments. Throughout his account, however, he indicated that he was still a Flying Instructor during the periods that these events took place.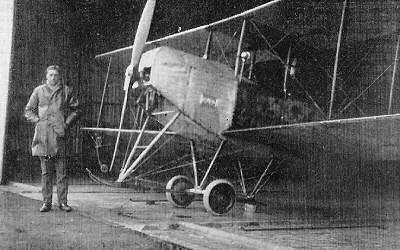 Henry dressed to fly with a training aircraft
It is clear that, with flying anti-submarine patrols and engaging Albatros in France, at some stage during the Great War he was back in uniform.
The Navy List dated April 1918 records him as having been commissioned as at 2nd December, 1917 as a Probationary Flight Officer (Temporary) in the Royal Naval Air Service (RNAS), at the British Flying School at Vendome in France. It is believed that here, he could have been under training, although this is not confirmed and would contradict his own words.

Service with the RNAS was short-lived with the Royal Air Force (RAF) being formed from the RFC and the RNAS on 1st April, 1918.
A little more than a year later, London Gazette No. 31416 reported that Second Lieutenant HC Biard RAF was placed on the Unemployed List as of 22nd May, 1919.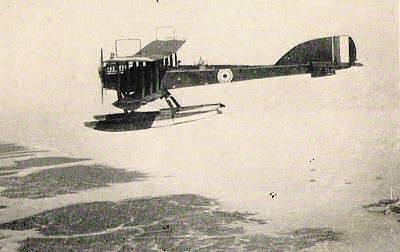 A Wight Converted Seaplane on patrol