The Royal Guernsey Light Infantry in its earlier days at least, shared some characteristics with the Pals' battalions in that it was based in a small community, and consisted of brothers, cousins, workmates and neighbours who fought, and in many cases died, alongside each other.
This postcard, from the Priaulx Library Collection, is a small scale illustration of this. It features six members of the 1st Battalion RGLI, photographed at Bourne Park Camp, near Canterbury, on 22 June 1917 "on a hot day". They had left the island about three weeks earlier, and they stayed there until they left for France on 26 September.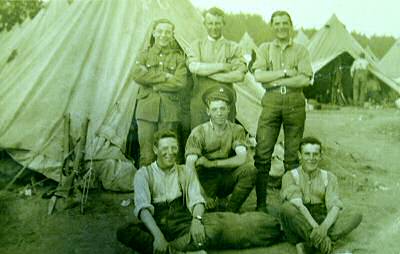 According to information on the back of the card, the men are, from left to right, in the back row:
Bugler Le Poidevin, Private C Saunders and Private Peter Bretel.
In the front row: Privates L. Roberts, H. Pagnier and A. Pipet.
This happy group of young men enjoying the sunshine, and keen to get their picture in the local paper ("Please try and get them put on the W. Press if you possibly can") did not remain like this for long. It is not clear what happened to Bugler Le Poidevin, as it has been unable to determine which one of the 25 Le Poidevins listed in Diex Aix he was. Number 391 Private C E Saunders from St Martin's was wounded on 20 January 1918 and again on 12 April 1918. He was invalided to England on 17th April, then rejoined the battalion with Reinforcement 18, the last draft, on 29 October 1918, before eventually coming home on the Lydia in May 1919. Number 240 Private PJF Bretel from the Forest was Acting Sergeant Bretel by the time he came home on the Lydia. It would appear that he was the writer of the card above, addressed to 'Dear Mother', as it is signed "Your loving son Peter".
Of those in the front row of the picture, Number 95 Private L O Roberts from St Martin's had been promoted to Corporal by the time he was sent to England for demobilisation in April 1919. Number 99 private H Pagnier (listed as Paginer in Parks), from St Andrew's was less lucky. He was taken prisoner of War at Cambrai on 1 December 1917, and returned to England on 17 December 1918. His medals are in the Castle Cornet collection. Number 322, Private Alfred Henry Pipet from St Sampson's was promoted to Lance Corporal. However, he was wounded and taken prisoner of war on 12 April 1918, and died of wounds on 23 April 1918. He is buried in Tournai Communal Cemetery, in Belgium.
Thus, within this small group, one man was wounded twice, one was taken prisoner of war and a third was also taken prisoner of war before dying as a result of his wounds. This group provides a typical small scale example of how the RGLI came into existence then was decimated within the year.
© Liz Walton 2006