The first place to look when researching the Channel Islands in The Great War is The Jersey Archive.
A good example is this book by Ian Ronayne:

"Jersey's Great War" by Ian Ronayne

Jersey Archive is open to the public on Tuesdays, Wednesdays and Thursdays only (late night last Thursday in month).
The Jersey Archive will be closed for stock-taking during the first full week of December.
Further details are available from our website or by email, telephone or fax: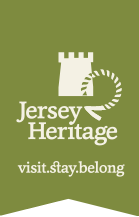 Jersey World War 1 Blog
What actually happened in Jersey during the Great War? How did islanders cope with a conflict that was so close to home and yet so far removed? Jersey Heritage is setting out to answer these questions over the course of the next four years by putting together a blog about daily life on the home front.
Starting on Monday 30 June, and every Monday after that for the next four years, find out what was going on in the Island a century ago