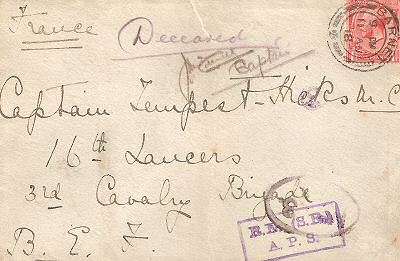 The envelope, pictured above, is a sad reminder that letters would frequently not reach their intended reader, and it would be the lot of others to return the contents to the sender who might only on receipt realise that the person was dead. In the case of this envelope, there is no accompanying letter and it may be better to remain unaware of the contents.
In Charles Tempest-Hicks' case he had died of wounds sustained while engaged in the fighting during the Battle of Amiens on 8th August 1918, a date described by General von Ludendorff as a "black day for the German Army". The letter, posted in Barnet on 11th August, 1918, was marked Deceased and returned to the sender via the Royal Engineers' Army Postal Service by the 16th Lancers Quartermaster, a Captain J McConnell. Noting the Barnet postmark and the address of Charles' parents, it is quite likely that the sender was a family member, and clearly the 8th would have proved a "black day" for the family also.
The photograph was kindly provided by Andrew Brooks, a member of the North Lancashire Branch of the WFA, who has the original envelope as part of a wide ranging collection of philatelic items from the Great War.