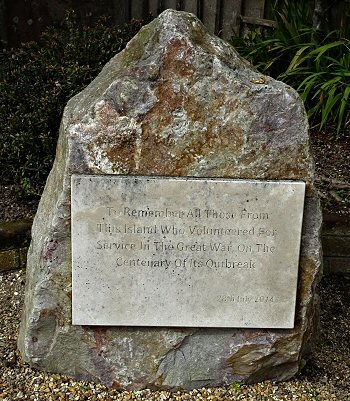 1914 Commemoration Stone
Unveiled on 28/07/2014 in the Alderney Memorial Garden
"The Alderney branch of the Royal British Legion have organised for the church bells of St Anne to be rung on Monday 28th July at 11.00am to mark the start of World War I.
Bell ringer, Donald Hughes, has confirmed that one church bell will be tolled slowly for 10 minutes, starting at 11.00am. This has been done so with the blessing of the Reverend Stephen Masters.
Thereafter there is a plan to ring a quarter peal (lasting approx 45 mins) on the 100th anniversary of the death of each of Alderney's fallen soldiers between 2014-2018.
A plaque commemorating Alderney men who died volunteered for service will be unveiled by the President of the States to mark 100 years since the outbreak of the First World War.
Everyone is welcome to attend at the Memorial Gardens on Victoria Street at 6:30pm on Monday 28th July."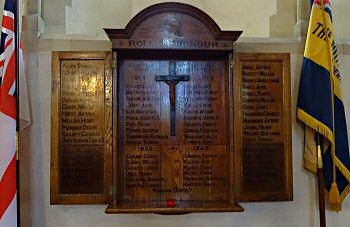 Memorial in St Anne's Church, Alderney
Alderney's beautiful War Shrine, presented to the island by Mr N Barbensop, formerly Judge of the island, was erected on his property opposite the Offices of the Commercial Bank, in Victoria Street. It was then relocated to the church