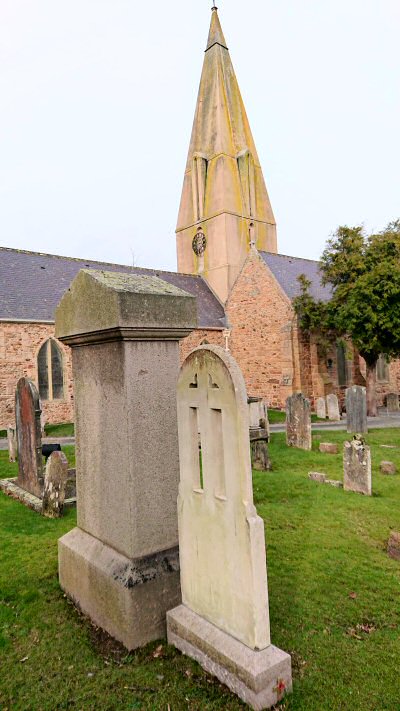 Grouville Church, Jersey

A Jersey War Memorial Moves*
by Sue Payn
As a "Remote Volunteer" for the War Memorials Register of the United Kingdom, I am always of the lookout for new information to send in.
French Nationals. who lived in Jersey, waited for the call to arms when WW1 broke out in 1914. This arrived late om August 1st 1914 and the first men left on August 3rd, on S.S. Laura, bound for Granville.
At the end of WW1, the congregation of St. Joseph's Catholic Church in Grouville felt it was fitting to erect a memorial to its Frenchmen, who had worshipped there, and had died fighting for France. Some eighteen names were inscribed on the memorial. Some men had been born in France and some had been born in Jersey of French parents.
Time went by and the church closed to make way for housing in the 190s and the memorial was removed to La Croix Cemetery, Rue à Don, Grouville. Although in an out of the way part of the cemetery, the parish has always laid a wreath there on 11th November.
Recently, it was decided to move it to a more prominent place in the parish and a site was chosen in the churchyard of Grouville Parish Church. So, on 10th November 2018, it was dedicated in its new position there. It now stands next to the memorial remembering a skirmish in 1781 at La Rocque: a skirmish which proceded the Battle of Jersey in the Royal Square, St. Helier.
*Extracted from the Channel Islands Family History Society quarterly journal (No. 161)