During the First World War, the battles fought at sea were every bit as dangerous as those fought on land. Vast navies opposed each other across the great oceans of the world, equipped with the most up to date technology that industrialised nations could produce. The human cost was staggering, not only on those who served, but also those families left at home.
My Family In The Great War tells the story of three family members:

Midshipman Philip Reginald Malet de Carteret, RN, (killed on HMS Queen Mary),
Midshipman John Malet Armstrong, RAN, (served on HMAS Australia)
and Captain Harold Ackroyd, VC, MC, MD, RAMC (killed at the Battle of Passchendaele, 1917) serving in different theatres of the 14-18 conflict.
Written by a direct descendant, the story of the war at sea and on land is vividly brought to life through personal letters and historical fact.
Meticulously researched, with detailed illustrations and photographs throughout, My Family In The Great War provides an intimate portrait of total war, painted on a different canvas to the significant hell of the Western Front, yet every bit as lethal.
About the Author
Ned Malet de Carteret was born in 1961 in Jersey. He was educated at St. Michael's Preparatory School and Canford School in Dorset. The majority of his career has been in financial services, specialising in stockbroking and Investment Management.
Ned is a tireless promoter of his island and family history and currently serves as Vice-Chairman of the Rates Assessment Committee for the Parish of St Helier.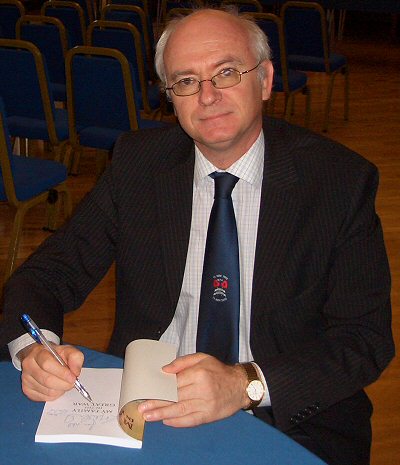 Ned Malet de Carteret
"My Family in the Great War" is published by the Reveille Press and is available now from its various outlets, priced at £15.99 (RRP).
ISBN 978-1-908336-46-0